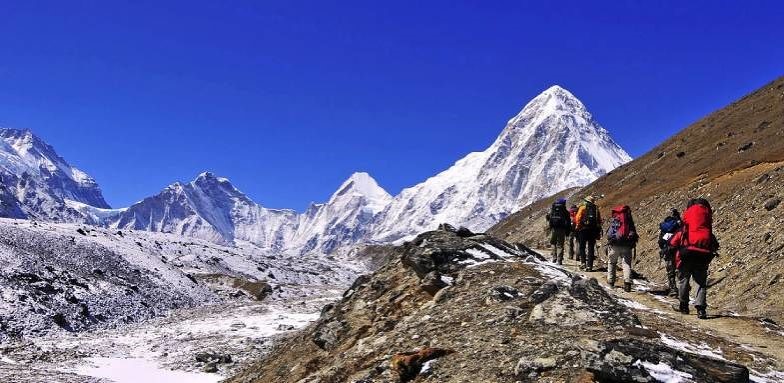 Situated at a height of 4610 m above sea level, the Moon Peak expedition trek lies in the Dhauladhar range of Himalayas. Within 5-6 days you will find yourself sitting at such a high altitude. This trek is a short trek but a challenging one too. The presence of rocks and boulders in the later part of the trek is what makes it more challenging along with the steep inclination.
There is a change in landscapes after every few minutes. The trail to Moon Peak becomes more and more beautiful as you reach closer. However, not every individual gets a chance to reach the top and have the beautiful view of this amazing peak.
The Dhauladhar range of western Himalayas lying in Himachal Pradesh divides the two districts of Chamba and Kangra. Kangra lies in the Dharamshala region of Himachal Pradesh. One of the interesting facts of this trek is that it starts from McLeodganj. McLeodganj is one of the favoured hill stations in India. A huge flock of tourists turn up every year to this hill station in Himachal Pradesh. 
While on a trek tour, one can also have an opportunity to explore the local culture and markets of this place. Local cuisine of this place is also a major attraction for the visitors.
Moon Peak expedition is a 45 km long trek. Starting from McLeodganj the trek route will take you through the Triund, Laka Got and Lahesh caves. Days are warmer and nights are chilly so be prepared in advance.
Favourable Season to visit Moon Peak
Most treks are favourable to give a visit anytime during summer months. However, there are few famous winter treks too.
Moon Peak can be visited anytime between the months of May to October. However, the two months of monsoon can be avoided owing to the slippery nature of roads and pathways. Weather is pleasant in summer. 
Winters are harsh hence attracts less visitors.
Travel Plan for Moon Peak expedition
Day 1- McLeodganj – Triund
The starting point of this trek is McLeodganj and your arrival point also. Start your trek to Triund valley by following the markings and reach there by afternoon. Take some rest and check in to your particular campsites. 
Explore the nearby area for the remaining day and enjoy a beautiful night stay in Triund.
Day 2- Triund – Lahesh Caves
Start day 2 early in the morning as you must be feeling fresh. You will reach Laka Got after a short start from here. There is a famous café on the way named Snowline café. Stay here for a quick break and move further towards your destination. Reach by the afternoon and spend the night in a camp here.
Day 3- Lahesh Cave – Chatta
Start afresh again for your journey further to Chatta. You will be taking three hours to reach Chatta. And what comes to your surprise is the breath-taking view of the Pir Panjal range of Himalayas. What a phenomenal view of the central Himalayas is waiting for you. 
Chatta lies behind Indrahar Pass. Stay here overnight in a camp.
Day 4- Chatta – Moon Peak
This is the day you were waiting for all these days. Start the day early with some light breakfast. And carry some light snacks also along as the journey is around 4 hours long till the time you reach Moon peak.
Spend some time at the peak to enjoy the magical views of this Peak. Sit, jump, relax, take pictures or do whatever you want and enjoy the time here. Start your descent towards Lahesh caves from the other side after spending some time here. Book an overnight stay at a camp in Lahesh Caves.
Day 5- Lahesh Caves – McLeodganj
Start your trek back to McLeodganj after having breakfast. The route back to the start place can be the same or if you want to experience a different route then from Triund change your way towards Bhagsu Nag. This route is grassier. Reach McLeodganj and end the journey of the beautiful Dhauladhar range here.
Details of the Trek
Difficulty Level is Moderate. This trek can be done by a first-time trekker also with an average fitness level. Because the path to your famous peak does not have major steep climbs. 
A prior trekking experience is always a boon for the individuals wanting to go on trekking.
Height- 15,250 Ft
Duration of the Trek- 4 Nights and 5 Days